Follow up to my last post:
1) The refrigerator mysteriously resurrected itself two days after dying. Clearly, we are dealing with a case of GHOST APPLIANCES.
2) The gas company posted our checks a mere three hours before we were scheduled for disconnection, thus sparing me the financial burden of having to BRIBE THE UTILITY CLERK when he arrived at our door.
3) Still not a fan of working. But I've determined that both of my jobs are fine, perhaps even enviable to some... I'm just fucking lazy. With this revelation, I have decided to actively pursue my lifelong dream of being a HIGH PAID LOUNGEABOUT.
4) On that note, is there really anything wrong with being an ego-driven, emotional cripple?
Rest In Pieces to two of the Greats:
Sir Graves Ghastly
and Bobby "Boris" Pickett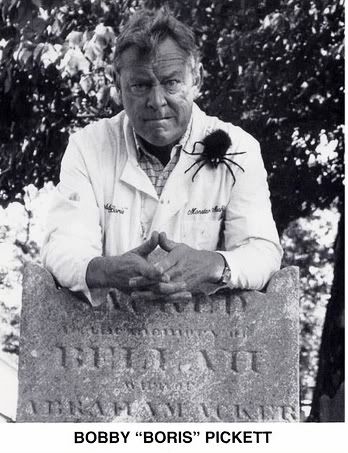 The world is a little less spooky without them.
--Scary M!