FIRST:
We got back from Joplin two days ago, and I'm happy to report that the Spook Light put in an appearance both nights we were there... Being the observant fellow that I am, I drove right past it the first night without seeing anything-- there were a bunch of hoodlums gathered at the side of the road, waving their cameras in the air, so of course I opted to gawk at them rather than see what all the fuss was about. Luckily, our friend Cassie popped up from her back-seat nap in time to see it hovering above the ditch as we rolled by. The second night, we all saw it, albeit from a greater distance and for a very short period of time. It was too dark out for any of us to get a picture, but this is pretty much how it looked to us: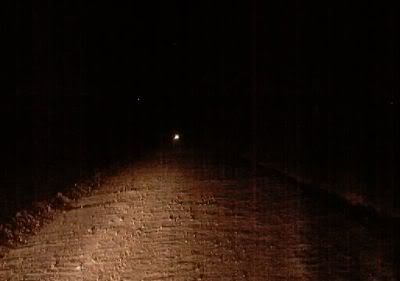 It bumbled from side to side for a moment, kind of flickered on and off, then vanished in the headlights of an oncoming car.
While in Joplin, we stayed at the sunny Capri Motel:
which has seen better days, to be honest-- the pool is now filled with rocks, the lights on the sign don't work, and the entire place is populated by year-round residents like Shirtless Guy Who Plays With Pet Snakes In The Parking Lot. Suffice to say, I fell in love with the place, and would heartily recommend it to any weary traveler who needs a cheap place to flop and doesn't mind the occasional bedbug or late night knife-fight behind the dumpster.
SECOND: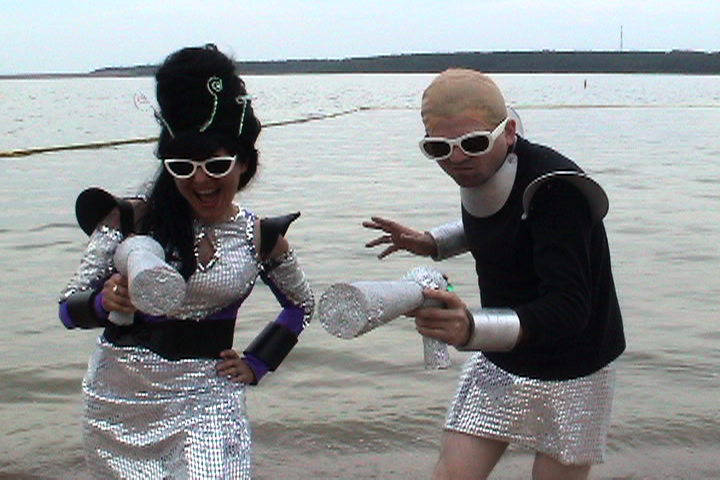 For those of you who missed our FILMSPLOITATION SHOW last week, your lives are that much sorrier for it. Not only did we premiere the soon-to-be classics THE HIGH PRICE OF FASHION and VOODOO ALIENS AT GORILLA BEACH (Youtube clips to follow soon, PROMISE), but we also screened a revised edit of THE SLAVES OF MARY JANE which sent the entire audience into a state of eye-rolling, mouth-frothing hysteria.
Special added bonus: DEAD END ON LOVE STREET, a super-8 film I shot and hand-spliced at the tender young age of 19 (count 'em: 12 YEARS ago)... The film itself isn't very good, but it's a nice chunk of nostalgia for yours truly, and it felt good to finally screen it for an audience after more than a decade of collecting dust in my closet:
THIRD:
Reading and watching, watching and reading...