Happy Halloween, you spooky bastards!!!!!!!
I'm trying to find an image of one of those old school, poseable BLACK CATS that everyone used to hang in their windows for Halloween... I know my parents have one in a box somewhere, but I don't have the energy to go dig it up.
Anyway, I've got some cover-up work I want to get done at the tattoo shop soon, and I'm having a hard time drawing one from memory. Can anyone help?
(These are the best images I could find on the internet):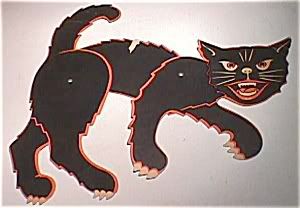 Sheep shit! I ordered a used DVD copy of "The Cabinet of Dr. Caligari" from Amazon dot com last week... I thought I was purchasing the deluxe, restored Kino print of the movie, but today I opened the mail and instead found the crappy, most definitely NOT restored Alpha Video version of the film... BAH! I'll never trust the internet again.

On the up side, I found the perfect tuxedo shirt for my Silent Film Ghost costume at the Social Service League today. One dollar! All I nedd is a vest, some spats, and a walking stick and I'm ready for HALLOWEEN...