Before I get into the bitterness, here's something fun:
Okay, then...
I work too much. It's official. It's one thing to have two jobs, it's something completely different when those jobs don't allow for any real sleep between shifts... Seriously, I spend four days out of every week clocking in at 4 am, going home at 1 pm, clocking in at 3 pm, going home at 10 pm. I usually fall asleep an hour after that, only to wake up again four-an-a-half hours later (if I'm lucky) so I can go back to work.
Is it any wonder I've been fucking the dough up at the bakery lately? Is it? My burnout level is at an all-time high. My boss left a message saying he wants to have a "discussion" with me this week... and I'm ready to tell him to go felch himself, I really am. I'm a pretty damned good employee, a total fucking workhorse, and I don't need some freaked-out ex-hippie coming down on me about every minor slip-up just because his ass is chapped. Especially when we have other employees who regularly show up late (and drunk), stand around smoking cigarettes all day, and clock out when they think no one is looking... Why not have a "discussion" with one of THOSE nimrods?
So I called in from the bar tonight just so I could have some quiet time for myself. And since "quiet time" usually equals "get drunk and spend money," I ended up with a copy of MONSTERS CRASH THE PAJAMA PARTY.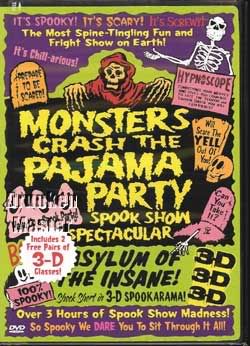 The menu is almost impossible to navigate, and some of the footage is completely extraneous, but dammit, I'm pretty happy with this purchase. The Encyclopedia Britannica educational short about irrational fears is a hoot, and the main feature, "Tormented" is so awful and hilarious I can't believe it never turned up on MST3K... Also, any disc that begins with a whirling Hypnowheel is all aces in my book.
The downside: 3-D doesn't seem to work on television, at least not here. I was excited to see a pair of glasses incuded with the DVD, but the only thing that popped out when I put them on were my eyes... What a headache!
I had the fortune of spending some quality time with my daughter this weekend... I took her to see "the Corpse Bride" which she realy seemed to enjoy. Actually, she was bored as hell for the first fifteen minutes or so, until the first singing skeleton appeared... Then she was standing up in her seat, dancing. On the way out of the theater, she said, "I liked him when he put the ring on her hand and she came up out of the ground... It was CRAZY!"
She likes the copy of "Mad Monster Party" that I sent her so much that she opted to bring it along to watch... She's only had it for a week and she already knows most of the music and dialogue. Her favorite characters are The Wolf Man and Mr. Hyde, although she has to cover her eyes whenever Dr. jeckyll drinks his potion because the transformation process scares her.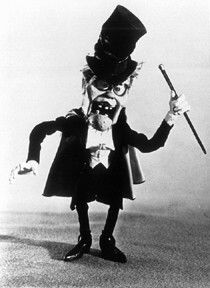 This week:

secret_malady
and I are going to start writing some music, with or without our absentee bandmates. And I've got to finish putting my Halloween costume if it fucking kills me... I refuse to sit on the sidelines for two years in a row!