For starters: I just figured my taxes for 2005. Somehow, I owe the feds almost $200. Looks like the only place I'll be filing these forms is in the motherfucking DUMPSTER, man. Seriously, haven't I already paid enough? How is it I barely even make enough money to clothe myself (outside of paying for rent, bills, child support, student loan shit, etc), yet for some reason I STILL HAVEN'T PAID ENOUGH? All this on top of last year's audit. Fuck that. If I can't even afford to keep a roof over my head, I sure as hell can't afford to pay for the US Senate's annual pay raise. Sorry to hear the fees at the local bathhouse went up, gang, but I got mouths to feed. Deal with it.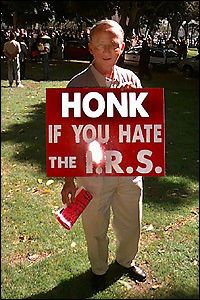 I went to Liberty Hall last night to rent DUNE: THE EXTENDED EDITION. My conversation with the clerk on duty went something like this:
ME: Oh, Dinosaur Jr. is coming?
CLERK: Yeah, I guess so. Who are they, anyway?
ME: You've never heard of Dinosaur Jr?
CLERK: Well, a lot of people come in and seem excited about it, but I'm not really sure I've heard them
before.
ME (slowly realizing that I'm old): Um... They were pretty big in... THE 90's.
CLERK (slowly realizing that I'm old): Oooo-kay.
By the way, the extended edition of DUNE is NOT the long-promised "director's cut." Instead, you get the 3-and-a-half hour long TV version that David Lynch removed his name from (Alan Smithee appears in the directing credits). Also, I seemed to remember that DUNE was a bad movie... What I had forgotten was that it's also a TERRIBLE movie. I mean, really, REALLY awful. The voiceover narration, the interior monologues, the rushed storyline, ALL OF IT adds up to one giant MISSED OPPORTUNITY. What a shame, especially considering some of the acting talent on display: Dean Stockwell, Grace Zabriske, Max Von Sydow, Kyle MacLachlan... At least David was able to put most of the people to better use on his later projects.
One last thing: Does anyone know whatever happened to THIS GUY?